Welcome to Coffee (Aside)
Coffee (Aside) is an invitation to take an aside from the day as can only be done over a cup of coffee.
When we do this, we build community, we build connections, and we better tend to both ourselves & those around us. We believe life is better when we slow down. For us, coffee is not about the caffeine, or a rush, or being manic. It is about breathing in and out. It is about taking an aside.
All of our coffees are ethically sourced, from small-lot farmers in primarily East Africa, Central America, and South America. We only offer 100% Arabica, Speciality Grade (80+ points) coffee, and it is always fresh-roasted to order. This is as good and as fresh as it gets!
We specialize in custom labeled events for schools, organizations & businesses. As part of this niche, we work hard to support local community & youth organizations by providing coffee fundraisers. We give 100% of earnings back to the teams/schools we connect with on traditional fundraisers, and 20% donations for "Dine-out" Fundraisers.
If you would like to discuss custom labeled coffee and/or volume-discounts for your event, PTO/PTA, "Dine-Out," fundraiser, office gifts, teacher appreciation, etc. -- then please contact us at: coffeeaside@gmail.com
Until then, enjoy exploring each of our coffee collections below!
Espresso Collection
The popularity of Espresso is on the rise, and we are here to meet it! We offer 4 distinctly delicious offerings, including a Decaf option. Remember that all Espresso is coffee, but not all coffee is Espresso! What will you do with these today?
CLICK HERE TO EXPLORE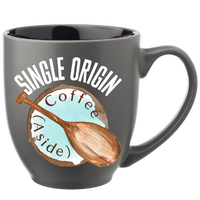 Single Origin Collection
Single Origin coffee refers to the regionality of where coffee comes from. This is all 100% Arabica Beans from small lot farmers across the globe. Each label is our own special ode to the country, the land, the people, and the resources that brought the gift of each of these coffees to us. Because sustainability is so important to the small-lot farmers we work with, all of the bags in this collection are compostable. 
CLICK HERE TO EXPLORE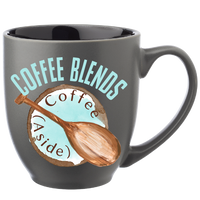 Coffee Blend Collection
We have collected 100% Arabica beans from different regions of the coffee-growing world and combined them into specialty blends for you! We have carefully focused on the attributes of each bean and developed unrivaled combinations of flavor profiles pulling from the best flavor notes of each for an unmatched bag of coffee.
CLICK HERE TO EXPLORE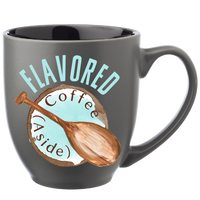 Flavored Coffee Collection
Our Flavored Coffee Collection bears our iconic Hawaiian Oar. It symbolizes strength and the pureness of the pursuit. Our Flavored Coffee Collection only uses natural flavorings - nothing made in a chemical factory like the big companies do. A little bit goes a long way, and we add the flavoring while the beans are still hot from roasting. This is as good and pure as it gets!
CLICK HERE TO EXPLORE MORE
Custom Orders & Fundraisers
One of our favorite things to do is to pair with organizations to create Custom orders. We can use your school, group, business, or other organization's logo and create a custom label for the coffee of your choice! We also are a great partner for fundraising efforts!
Contact coffeeaside@gmail.com for pricing and more information!
Click Here for Recent Samples
Coffee Coloring Books!
We provide this as a free perk for our friends in the coffee world to help express our shared love around coffee. Adult coloring books have become quite the rage in society, and we truly believe in the benefits of getting lost in expression, and the chance to wind-down and tune-out in our hectic lives! What better way to take an aside than a perfect cup of coffee and one of our light hearted adult coloring books! And the best part, is just like our shipping policy -- this is FREE!
CLICK HERE FOR COLORING FUN!!!